About Paper of Record
Conceived by electronic publishing and web pioneer, R.J. (Bob) Huggins in a local Ottawa, Mexican restaurant in 1999, PaperofRecord.com® is a Global pioneer of searchable newspaper image documents presented in their original published form. The Toronto Star, (circulation 650,000) became the first newspaper in the world to have its entire history from 1892 to present, digitized for the world to see and search. This revolutionary process changed forever how large metropolitan newspapers conduct their research and became the genesis for PaperofRecord.com®.
Imagine the world's daily history presented for the past 500 years in a single, accessible database. Let's put that in language we at PaperofRecord know best. This is a visual representation of information sources for the past 500 years;

Bob Huggins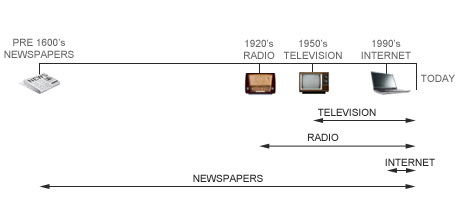 Just to give you some context on how society has gathered our daily information for the past five centuries. The Internet is but a very small child with its' commercial adoption in the early 1990's. Television is introduced to our living room's in the nineteen fifties and changes forever our world view. Radio broadcasts dominated our information gathering from the 1920's through to the birth of television.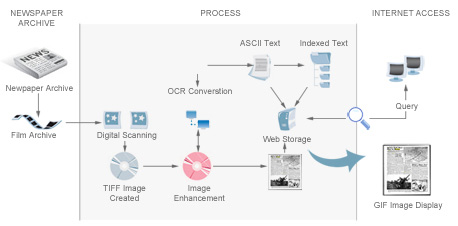 Yet it is the Newspaper that is the constant that has documented daily, much of what we know of our world today. With this in mind PaperofRecord.com began with the mission of creating an efficient, cost effective method of scanning and converting microfilm from dusty vaults to be a vast research treasure trove for people all over the planet.
In 1999, what we had envisioned could not be delivered through the Internet, as we knew it. So with much trepidation combined with blind hope, PaperofRecord.com marched forward with the promise that Internet infrastructure, high-speed bandwidth penetration and increased data storage capability would outpace expected growth (At least that is what we told our bankers). Jamming 1 million bytes of information, per conventional newspaper page through a 14.4K pipe was not going to make for an enjoyable user experience.
The second broader goal was to set in motion an understanding of what a valuable resource that could be created if one could imagine capturing a snapshot of life from every country in the world, in every language, from every waking day.

Robert Allum
Chief Architect
Historians and scholars will argue that newspapers are not considered as primary source academic documents, yet they are for most people a treasure trove of information extracted from births, deaths, community, sports, commerce, politics and pure idle gossip that have helped form much of our collective histories.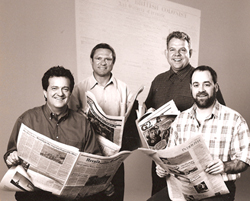 Cold North Wind - 1999
With 21 million images in our collection so far, PaperofRecord.com is looking to a multi-billion-newspaper page universe to create a resource that will be used by scholars, students and individuals of all walks of life, for generations to come.